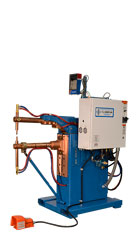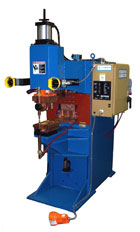 SEARCH T. J. Snow Resistance Welding Machinery
T. J. Snow is an industry-leading manufacturer and supplier of new standard and custom designed spot welding machines, welder controls, transformers, parts and accessories. In addition, with over 300 machines in stock, T. J. Snow's crane-equipped warehouse contains a large and diverse inventory of used resistance welders of all types.
Select late model welders received in good condition are REFURBISHED and offered with a 90-day warranty.
However, most of our used resistance welders are quoted stripped and REMANUFACTURED to like-new condition, complete with a brand new or current model programmable-type refurbished welder control.
A complete REMAN means we can offer a full one-year warranty, just like a new machine, but at a 25-35% savings.
We invite you to search our online inventory through the Category links below.
In a hurry? Check out our FAST SHIP welders.
For further information, call us at 1-800-NOW-SNOW or submit our online RFQ form to get a quick response from our team of experienced Applications Engineers.